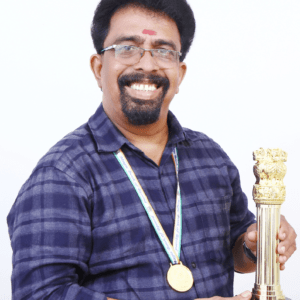 Dr. Sajeev Dev is a highly skilled professional with extensive experience in the fields of training, counseling, and life coaching. He holds a Doctorate in Business Administration with a specialization in Training, Counseling and Life Coaching, making him a well-respected expert in his field.
Dr. Dev has received recognition from the Asia Book of Records, India Book of Records, and the Magic Book of Records for his contributions and achievements. He has also served as a Trustee of the International Federation of Professional Trainers (IFPT) and was previously the State President of IFPT. He is also a National Trainer for Junior Chamber International India (JCI) and a certified Wellness Trainer and Counsellor.
In addition to his training and counseling expertise, Dr. Dev is a highly sought after motivational speaker and trainer for career development, soft skills, effective public speaking, and sales. He has also served as the President of the Lions Club of Cochin Gateway and was previously the GLT Coordinator for Training at Lions Club International.
Dr. Dev is a successful entrepreneur, with a number of businesses under his leadership. He is the Managing Partner of Cochin Refractories and Minerals in Aluva and the Managing Director of Perfect Refractories and Services in Kalady. He is also the Founder and CEO of Yuvann Wellness Concepts and Yuvann Pain Free World, as well as a Partner at Nlight Ateta Business Corporation. He serves as the Chief Coach at Nlight Training Counseling and Consultancy and is a Director of the Merchants Association Cooperative Bank in Aluva.
In conclusion, Dr. Sajeev Dev is a well-rounded professional who has made a significant impact in the fields of training, counseling, and business. His dedication to improving the lives of others, coupled with his expertise and entrepreneurial spirit, make him a valuable asset to any organization or individual seeking his services. To get in touch with Dr. Dev, you may contact him at tasajeev@gmail.com or visit his websites at www.sajeevdev.com,
www.amterenglish.com www.cochinrefractories.com, www.wonderhenna.com, and www.wondermart.com.